Do you want to fill up your photo albums with great photos of your kids? You totally can! How, you ask?
Give up expecting to have magazine-perfect pictures. Period. If you get some of those shots where they are smiling at the camera and saying cheese just like you told them, fine, but are those really the best pictures?
My soon-to-be stepdaughter, for example, has a problem in pictures. In almost every shot she is either not looking at the camera, moving too fast to be captured, or looking like she has been lobotomized.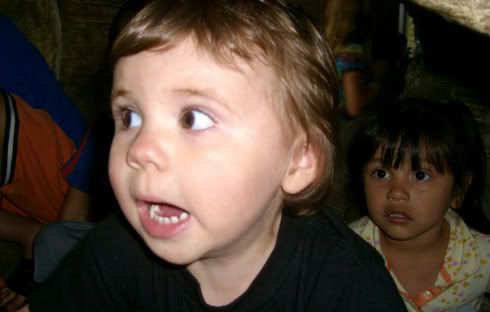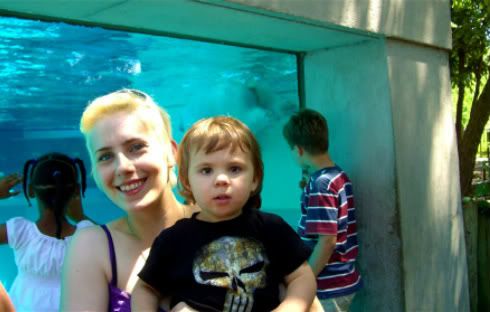 Zoo day, after which I had to toss 90% of the pictures. These were the best ones.
This is a child whose medium is film. She's so cute in person, but wow, sometimes…there have been occasions where we have taken 50 shots, and not one has been usable.
Thankfully, we live in the age of digital cameras. Had she been born when I was (or earlier), almost no pictures would exist of this kid. We can afford to click away and see what happens.
The day before Christmas, while she was enjoying ants on a log for perhaps the first time, I got this one: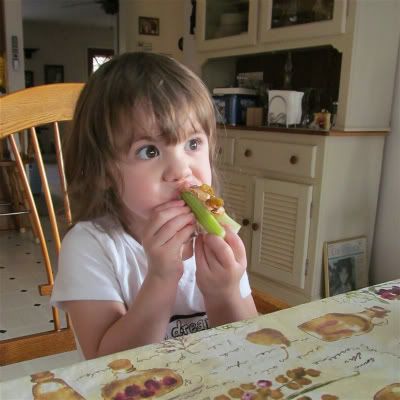 Personally, I think those perfectly smiling, precious "look how pretty I am" pictures are boring as hell. All of my favorite pictures from when my sister and I were kids involve what I dub "crazy face." Baby Bear has it in spades, and I wouldn't trade it for anything.
She's pretty all right. Pretty awesome.